JAPANESE CLINCHES TOP PLUM IN FIM ASIA SUPERMOTO OPENER
May 5th, 2011
JAPANESE CLINCHES TOP PLUM IN FIM ASIA SUPERMOTO OPENER
Japan's Takashi Sasaki dug deep into his vast riding arsenal to beat Thai supermoto stalwarts Takam Tungthong and Chakrit Rungsawan to the checkered flag and bag the top prize in the opening leg of the 2011 FIM Asia Supermoto Championship held Sunday at the Bira International Circuit in Pattaya, Thailand.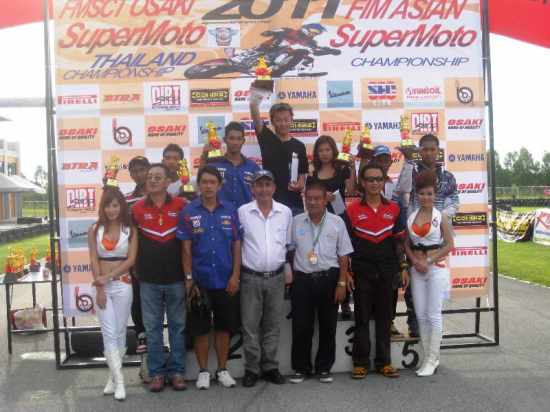 Japan's Takashi Sasaki (center in black shirt, second row), the champion and 1st runner-up Takarn Tungthong (3rd from left, second row) pose with FIM Asia President Stephan 'Macky' Carapiet and FMSCT President Thongchai Wongsawan (4th and 5th from left, front row) and the other winners during the prize giving ceremony for Round 1 of the FIM Asian Supermoto Championship held Sunday at the Bira International Circuit in Pattaya, Thailand. Others in photo are FMSCT officials and muses.
The podium cast was prematurely decided when Sasaki, Tungthong and Rungsawan broke away from the main pack in the early goings. The three however kept the crowd on their toes as they diced and remained within reach of each other. On several occasions, the frontrunners Sasaki and Tungthong exchanged positions before the fateful miscue by the Thai rider on the final lap that enabled the Japanese to snatch the lead and hold it all the way to the checkered flag. Tungthong came in a mere 2/ 10ths of a second later followed by Rungsawan who checked in half a second behind him.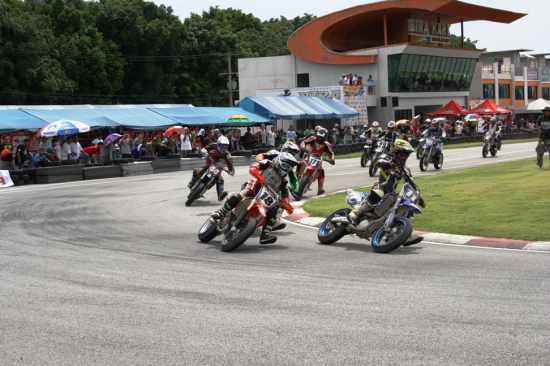 Sasaki (No. 18) gets ready to set the pace in the early goings.
Supermoto is a motorcycle sport discipline which is highly popular in Europe and the United States. Supermoto riders race on tracks that combine tarmac and dirt sections which has led its followers to claim that it is the ultimate bike rider's sport.
The supermoto event held in Thailand marked the debut of the "hybrid" motorcycle sport discipline in the FIM Asia activity calendar. FIM Asia President Macky Carapiet congratulated FMSCT for organizing the event and expressed his belief that supermoto will continue to further develop and garner interest from Asians in the years to come.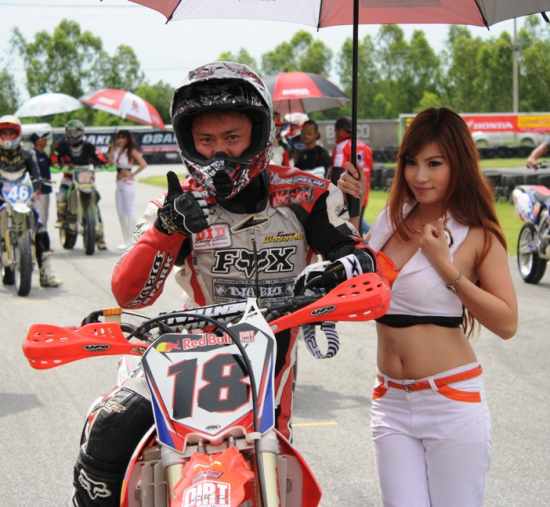 Eventual race winner Japanese rider Takashi Sasaki gives the thumbs up at the starting grid.
"On behalf of FIM Asia, I commend the FMSCT for organizing the event which is a major breakthrough for supermoto," said Carapiet . "We are looking forward to bigger things for supermoto in Asia and considering the prospect of staging a supermoto world championship event in Thailand and in other Asian nations in the future," he added.
The 2nd leg of the FIM Asia Supermoto Championships will be staged anew at the Bira Circuit on November 13. For more details on the FIM Asia Supermoto Championships, regularly visit, www.asiamx.org and www.fimasia.org.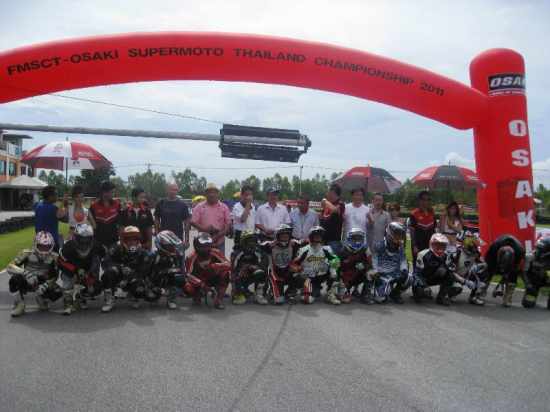 Participants and race officials pose for a "class photo" prior to the start of the race.