2006 FIM UAM AMSC Chequered Flag Report - Round 1, Guam
January 31st, 2006
luxury of the beach front Outrigger Hotel during their brief stay. As well as the 125cc Senior Championship, the opening 2006 event also qualified as an 85cc Championship Round.


Guam from the Outrigger Hotel
The non-arrival of the UAM container certainly provided some heartache for contractual promoter Extreme Worx and CMS president Stephan Macky Carapiet, however in the end with the co-operation of Guam's sanctioned body, GMAC, a satisfactory solution of local bikes rectified the situation.

As expected, Tony Boughten from the USA produced fastest qualifying time in the 125s but it was closer in the 12 – under 15yo juniors with Thailand's Arunkrung PinPon on his brand new Honda CR85 just pipping Australia's Jarryd McNeil on a borrowed Yamaha YZ85.

Friday night practice was affected by heavy rain and eventually postponed to Saturday with the sanction of Jury President Jeff Armin.

Saturday night's program began with the presentation award for the best 2005 AMSC Round to Helmy Sungkar for his Solo Indonesia event and then it was on to the 2006 opening ceremony where local fire dancers enthralled Riders and spectators with their cultural dance and folklore. The rain held off, a light breeze, good track conditions all bode for a good opening Round of the 2006 Championship.

Moto 1 Senior 125. A good safe start despite the speed of the downhill start straight, and it was AMA rider Tony Boughten (KXF250) right from start. Arnon Theplib had an altercation with James Robinson in the opening lap with the slightly built young Thai finishing second best against the burly Kiwi and by the 2nd lap of the 20 min +2 lap race the pattern was Boughten, Aep Dadang (Indonesia), Jye Harvey (Australia), Robinson. One more lap and the Kiwi passed the Aussie and a considerable gap was developing from these four to the rest of the pack led by Glenn Aguilar (Philippines) By the 6th lap the leading group were encountering lapped riders while Theplib was storming his way through from the rear.

Local Brian Gumataotao was out on the 2nd lap as was British Sean Hewitt (HKAA FMN) on the 5th but it was the likable young Boughten who continued his copybook performance at the front of the field.

Indonesia's Adi Nugraha was forced to retire after 10 laps with rear suspension failure.

On his 25th lap, Tony Boughten scored the chequered flag from Robinson (KXF250), Dadang (RMZ250), Harvey (YZ250F). In fifth place and one lap down was Arnon Theplib (CRF250) then Philippines Glenn Aguilar (KXF250), Heath Hamblen USA (KXF250), Shane Morrison Guam (KXF250), Denny Orlando Indonesia (KXF250) and rounding out the top ten was Guam's Caleb Barretto.

Moto 1 Junior 85cc. From start to finish it was McNeil followed by Indonesia's Alex Wiguna (KX85) with McNeil eventually winning by 8.5 seconds. PinPon in catch up mode, had a monumental over the berm in lap 2, but the gutsy Thai kid pressed on and eventually came in 3rd on the 10min +2 lap race. 4th and one lap down was Guam's Jamie Plagman (CR85) one of the two girls competing, followed by Guam's Michael Fuenfinger (YZ85)

Moto 2 Senior 125. Non starters were Hewitt (KTM) and Nugraha (YZ250F) Once again it was Boughten showing the way to go and once again a strong ride by Robinson, however the opening laps this time produced closer racing with Theplib retaining second place until handing it to Robinson on the 4th lap.

The tenacious young Thai managed to hold third place until the second last lap when Harvey threw his goggles in a last ditch effort to get more air and pass the 17yo Theplib. Boughten's race again, followed by Robinson, Harvey, Theplib and Dadang.

Moto 2 Junior 85cc. The youngsters raced their second Moto on Sunday afternoon, so they experienced a mixture of cool night racing under lights and hot daylight racing.
The single non-starter was Errol Angocco. The same aggressive start by McNeil, PinPon and Wiguna had this trio passing Riders by the third lap. This time the Thai did not fall and although he closed on McNeil, he could not pass the wily Aussie until the second last lap. Meantime Wiguna contented himself with a safe 3rd place

The Indonesian contingent's early flight departure resulted in them missing the post event trackside banquet/presentation therefore it fell to 2003 Guam winner Jye Harvey to graciously highlite the performance of Aep Dadang who is now the Asian points leader. Accolades must also be extended to Aldi Lazaroni with the 15 yr and 1 month old Indonesian achieving a 15th and 11th in his first race since moving from 85cc. China's youthful approach continues with 18yo Shi Le who is now joined by 16yo Shi Yu Meng. The Filipinos would probably prefer to forget the weekend. Former Asian Champion Glenn Aguilar was not comfortable with racing under lights and Kenneth San Andres not confident on his substitute bike, and to cap it off, 85cc Philippine Rider Jon Adlawan was absent, having applied too late for travel visa, however with Round 2 at Palawan, Philippines on March 17/19 the tables may well turn in their favour.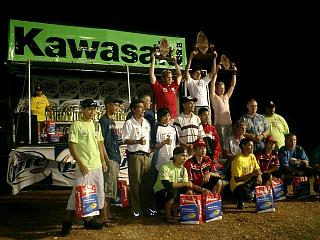 125 Podium: from left Robinson, Boughten & Harvey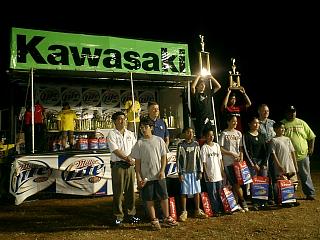 85 Podium: from left (Wiguna absent) McNeil, PinPon