PUERTO PRINCESA CITY PLAYS HOST TO 2009 MOTOCROSS CHAMPIONS OF ASIA
January 13th, 2009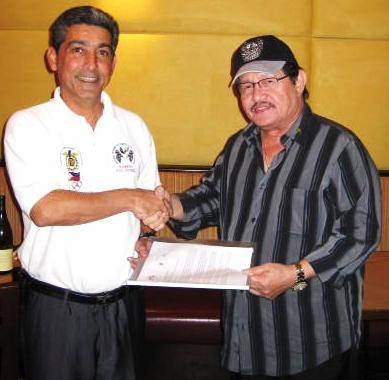 Photo shows Mayor Edward S. Hagedorn with FIM Asian Motocross Commission & NAMSSA President Macky Carapiet at a contract signing held Puerto Princesa City recently.

Puerto Princesa City will again play as back draft for the bigger and more intense battle for supremacy in the 2009 FIM Motocross Masters of Asia - Puerto Princesa International Motocross Grand Prix set March 1 at the Sta. Monica International Racetrack in Puerto Princesa City. This event shall be side by side by the Foundation of Puerto Princesa City that shall be celebrated on Macrh 4, 1009

This was consummated after Puerto Princesa Mayor Edward S. Hagedorn signed up with FIM Asian Motocross Commission & NAMSSA president Macky Carapiet for the hosting of the much awaited and country's biggest motorsports spectacle supported by the City of Puerto Princesa, Oakley.

Hagedorn sees this event as a big tourism boost to beef up the country's economy aside from his thrust to preserve Puerto Princesa City 's tag as the Sports Tourism Capital of the Philippines.

The City's Chief Executive, together with City Administrator Agustin Rocamora and Atty. Agustin of the City Sports department are now mapping out plans to make the event a bigger success and even more enjoyable for the visiting foreign delegates.

Up for grabs is the 2009 Mayor Edward S. Hagedorn Cup — a sterling silver trophy coming from the city's chief executive and his constituents.

Mongolian ace rider Khaliunbold Erdenbileg is set to defend his crown against champion riders from more than 10 countries expected to vie for the titles at stake.

Among the other foreign riders to watch are Iran's Mojtaba Karimzadeh, Amirreza Sabetifar, Indonesian trio Iwan Hermawan, Dede Mulyadi and Alex Wiguna and Thailand's Trakarn Thanthong, and past Japanese Factory rider champion Kaga shall arrive to provide a mx school and freestyle tricks !

A TV Crew from UK will be arriving for the global TV coverage of ESPN and Star TV that will telecast the event to over 540 million households worldwide.

Filipino riders, led by new national champion Kenneth San Andres, are now busy preparing to take the foreign challenge.

For details on the Motocross Masters of Asia and the Camel International Supercross Series, please check out www.asiamx.org and www.namssa.org or email at namssa01@hotmail.com or call 0917-847 – 9785.