Aguilar Reigns Supreme In Camel Iloilo Supercross
March 7th, 2006
(ILOILO CITY) - Pumped up by the cheers of the mammoth crowd who came to watch him reprise his battle with his tormentor in Talisay City a fortnight ago, the country's top rider Glenn Aguilar played his game plan- "take the holeshot and never look back" to the letter to even up matters with perennial rival James Robinson of New Zealand and claim the centerpiece Pro Open title in the 2nd round of the 2006 Camel International Supercross Championship held here Sunday.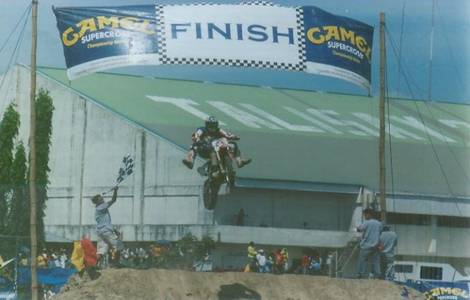 Glenn Finish
The 2-leg event was sponsored by Camel Filter Cigarettes, organized by the NAMSSA and supported by the local governments of Iloilo City and Sta. Barbara.

A spill while chasing Robinson in the final moto of the Pro Open class in the Talisay round cost Aguilar the top plum and raised questions on his ability to battle mightier odds in the Motocross Masters of Asia, round 2 of the 2006 FIM UAM Asia Pacific Motocross Series slated in Puerto Princesa City, Palawan on March 19.

The 9-time Rider of the Year erased all those doubts by taking the holeshot and keeping the persistent Robinson at bay up in the opening laps. A reversal of the two riders' fortunes two weeks ago ensued midway through the race when Robinson lost his handle and took a spill while entering a tight hairpin bend. This allowed Aguilar to break away and make it to the checkered flag unchallenged.

Multi-titled and ageless Jovie Saulog likewise gained from Robinson's spill as he passed the Malaysia-based Kiwi before the latter could restart his bike. Saulog finished second in the moto to clinch second place overall in the Pro Open class. Bebet de la Cruz salvaged the 3rd spot on the podium with a better aggregate score than Robinson

Aguilar was also tops in the Pro 125 category where he racked up 47 points by finishing 1st and 2nd in the motos. Robinson came up a close second with 45 points from his 3rd and 1st place output. De la Cruz ended up in third place with 42 points.

Team JMS-Honda of Saulog, de la Cruz and Dennis Acdol Jr. reigned supreme in the team event where each team member's output in their respective races count Team JMS-Honda gamely beat the Clark Eagles Motocross Team, winner of the team event of the Talisay round.

Aguilar and Robinson were the two biggest stars of the event. The pair regaled the crowd with their dicing and their freestyle maneuvers in the 60-foot double and triple jumps. An estimated 10,000 spectators came to watch the races, the majority of them oblivious to the two-kilometer trek to the race venue - on an access road rendered muddy and slippery by heavy rains on the eve of the race.

For details on the CAMEL International Supercross and other NAMSSA events, please visit the NAMSSA website www.namssa.org or email NAMSSA at namssa01@hotmail.com.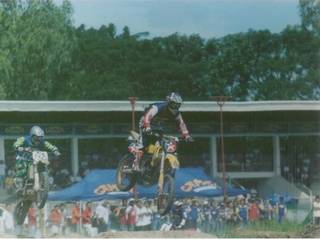 Glenn Robo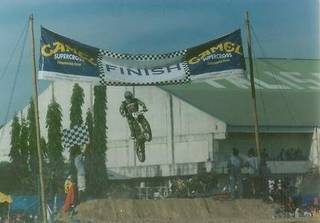 Finish Robo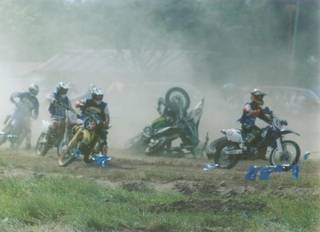 Crash