Maximum Age Limit Of 23 For FIM MX2 World Championship As Of 2009
July 8th, 2009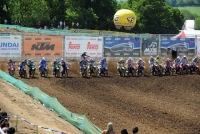 UDDEVALLA (SWEDEN), 3 July 2009 – We are still nine months away from the start of the 2010 MX1/2 FIM Motocross World Championship season, however, an important decision, taken by the MXGP Permanent Bureau already in December 2007, comes closer: the new maximum age limit of 23 years for the MX2 class as of 1.1.2010.

The idea behind a maximum age limit in the MX2 class is quite logical. MX2 is a promotional class that gives young riders a chance to mature and to prepare for the ultimate challenge: the participation in the premier class of FIM World Motocross - MX1.

The FIM Motocross World Championship MX1 is the best Motocross Championship in the world. The fastest riders in the world race on the best bikes on the best tracks for the ultimate goal in the off-road world: to become FIM MX1 World Champion.

To achieve that goal it is necessary that the best and fastest riders move as soon as possible to the premier class. Staying too long in MX2 makes no sense, as it would block young talents, who have made their way to the top via the European EMX2 Championship. Therefore, an MX2 World Champion will be allowed to defend his title only one time (in the following year).

Teams and riders had ample time to pla n their future and to make the adequate decisions. The limit for minimum age for MX2 is 15 years and starts at the riders' birthday; the limit for the maximum age finishes at the end of the calendar year in which the MX2 rider reaches the age of 23 years. This rule allows a rider, who - just to use an example - turns 23 years in the middle of the season, to finish the MX2 World Championship without any problems.

As of then, a decision has to be taken: the fastest riders will move up to MX1; others, who still need a certain time to work on their speed, will enter the fast growing FIM MX3 World Championship, that has got a lot of momentum and high quality thanks to the promotional efforts of series promoter and FIM contractual partner Youthstream.
LINKS
Youthstream
FIM