CARAPIET ELECTED NEW UAM PRESIDENT
February 5th, 2010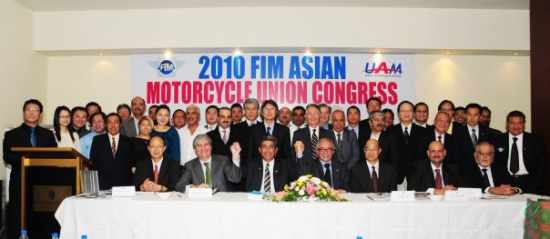 Running on an electoral platform promising changes intended to send the FIM Asian continental union for motorcycle sports soaring to greater heights, Stephan Carapiet was elected president of the FIM Asian Motorcycle Union (UAM) during the 2010 UAM FIM Congress held Saturday January 16, 2010 at the Hotel Intercontinental Manila.
Carapiet got the nod of the majority of the voting delegates representing the 22 member countries of the FIM UAM under the Asian zone with a longitude area that spans from Mongolia to Indonesia and a latitude coverage stretching from Jordan to Guam . A staunch motorcycle sports aficionado for the past 35 years, Carapiet will have his hands full in the next four years overseeing the motorcycle sports policies and activities in the continental union whose membership includes China, India and Indonesia who respectively rank as the first, second and fourth most populated nations in the world.
With his new post, Carapiet will also take a seat in the FIM World Management Council and thus set a new milestone in Philippine motorsports history as the first-ever Filipino elected to the highest office of an international governing body for motorsports.
The FIM UAM Congress drew over 50 delegates from the 22 member nations that included current FIM President Vito Ippolito and FIM Vice President Jorge Viegas who came to observe and preside in the conference's strategic planning workshop.
Carapiet's vice presidents in his term are Saudi Arabia's Mishaal Al Sudairy, India's Shrikant Kirani and China's Yan Jianchang who garnered majority votes in the vice presidential race.
The 2010 FIM UAM Congress hosted by NAMSSA, the national sporting authority for motorsports in the Philippines, who will be launching the 2010 National Motocross Series at the MX Speedworld at SM Bicutan on January 24 and the 2010 Mayor Edward Hagedorn Cup (FIM Asian Motocross Series) in Puerto Princesa City on February 21. The congress was a huge success and was supported by Philippine Olympic Committee and the Department of Tourism. For more news/information on the 2010 UAM Congress/Elections, please click on the following links: www.fim-live.com/en/media/news/news-detail/article/1263999438-stephan-carapiet-president-of-the-uam/, http://www.sportzpower.com/?q=content/shrikant-karani-elected-asian-motorcycle-union-vp,