ASIAN ADVENTURE
March 12th, 2010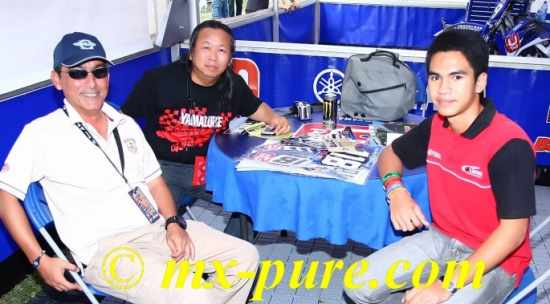 "Macky" (left) with Thanarat Penjan, the fastest non-Japanese Asian to visit Europe so far, at Loket last year. Foto: Alex Hodgkinson
The election of Stephan "Macky" Carapiet to president of the Asian Motorcycle Federation is, as predicted by mx-pure.com, already showing fruit in the expansion of motocross in Asia.
The continent has only hosted 12 GPs in the past - eight in Japan and four in Indonesia – but, in the wake of a recent meeting of Youthstream president Giuseppe Luongo and FIM MX president Wolfgang Srb with the man from the Philippines, the GP promoter has announced YS support for the Asian Championship and envisages a GP in the continent already in 2011.
Luongo enthusiastically declared: "We are delighted about this close cooperation with FIM Asia; the present and future markets are there and they have the best motorcycle market in the world with a growing economy.
"We hope that with this partnership we will see more Grand Prix events in Asia and we also hope to improve the level of the Asian riders and see more and more Asian riders participating in the FIM Motocross World Championship."
Srb added significantly: "The 21st century is very likely to be the period where Asia will grow very fast, in terms of economy and population. I expect also perfect chances for sport in general and for motorcycle sport in particular, as sport is a very important part of the social and cultural life of people."
"Macky", a real hands-on official who has accompanied riders from Thailand, Mongolia and his homeland to Europe to experience GP racing in Europe in recent years, summed it up: "I am positive that ... our collective efforts will bear fruit and we will soon be able to realize and fulfill our monumental goal of bringing motorcycle sport in the Asian continent to greater heights."
Author: Alex Hodgkinson
Souce: http://www.mx-pure.com/archive/news-20090318095900-20100309122219.htm